Castings that are used for wheels and such are not finished until they are machined. Actually, castings are not easy to machine, since it is hard to call any surface or feature a reference surface, because the casting will tend to move around.
We see a box of castings for the Northern Pacific A-2 wheelset on the table at the machinists, along with a plan for the 77" tire that goes with it.
Inside we can see the various sized counterweights and the importance of the machining spud on the back of the wheels. The wheels are chucked up in a 4-jaw chuck or collet so the backside, inside edge turns true in both the Z and X directions (as true as it will turn.)
The spuds are then trued up, then the OD for the tire (or insulation) is machined, and the axle hole is bored.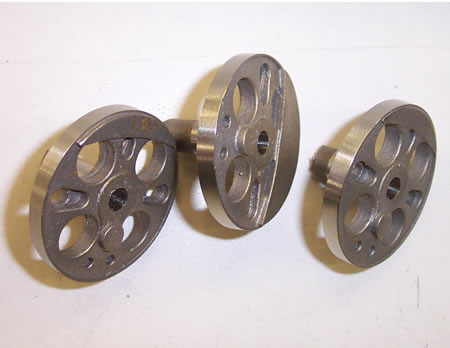 Then the tires are machined. These are made for us on a CNC lathe out of 303 stainless steel. You never have to worry about them rusting, and they don't slip any worse than ordinary steel (despite what you've heard!)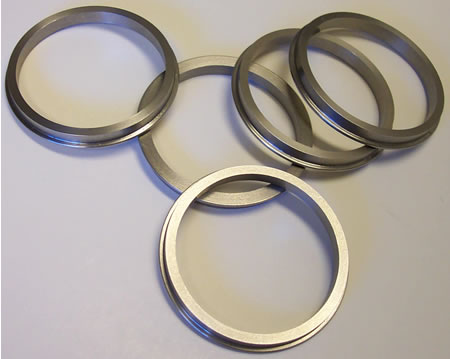 After the tires are pressed onto the centers and the axles pressed on, we get the finished wheelsets. Here are the wheels for the Northern Pacific A-2 conversion using the Sunset/3rdRail model. These were done for David Nadeau out of Ontario, Canada.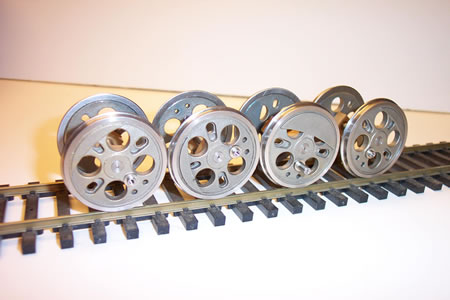 From any angle, these wheels look sweet!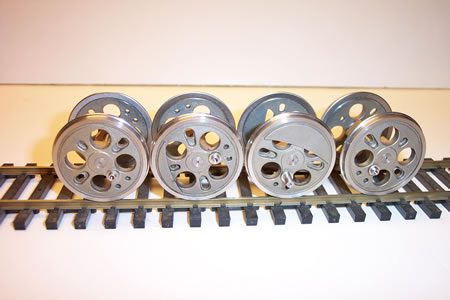 We are unable to do anymore machining here at Pacific Locomotive Works (the shop we work with has gone almost totally CNC, and the only manual lathe is totally booked for set-ups.) But we have machinists that we work with who are really expert at this.
Topping our list is a fellow who is a retired machinist and O Scaler. He has done quite a bit of work for us, and he is dependable and reasonably priced. The wheelsets above were done by him. His name is James Hanson, and his contact info is as follows. Tell him we sent you!
James Hanson
69 Seven Oaks Lane
Gilbertsville, KY 42044
270-362-4342
email - jhan@vci.net